Overview
Broadband services are now being advertised predominately online. Successful organisations understand their target audience and digital needs. In today's environment, you need business solutions that include digital marketing, social media, and video production paired with branding and public relations.
Speaking your customer's language means paying attention to tone and voice as well as using the same phrases and terminology. The analysis of broadband services in Ireland focuses on the phrases, terminology, brands and competition that your customers are using.
Digital search data, gives you insights into market demand for your products and services:
Make informed product line expansion decisions
Identify new customer segments
Find out what keywords / terms your customers are using online to find your services or products!
Each phrase is analysed based on:
Average Monthly search volume
Search percentage per segment
Competitive opportunity
Ease of Implementation
We also use our intelligent tools help you make better decisions:
Forecast growth
Opportunity relative score
Analysis contents include:
Overview of broadband services in Ireland
Market drivers and trends.
Online Search Forecasts
Brand analysis
Market segmentation
Market maps and opportunity analysis
In-depth analysis of online broadband terminology used in Ireland
Content Listing
Executive Summary
What You Get
Methodology
– Identify Keywords
– Segment keywords into logical clusters (market, service, product, page)
Assumptions and Definitions
Clusters
cellnet + broadband
digiweb + broadband
eir + broadband
ifa + broadband
imagine + broadband
pure + broadband
rural + broadband
sky + broadband
virgin + broadband
vodafone + broadband
business + broadband
cheap + broadband
community + broadband
fiber + broadband + install
fibre + broadband
telephone + broadband
wireless + broadband
home + broadband
rural + broadband + provider
rural + broadband
regional + broadband
local + broadband
broadband + service
broadband + provider
broadband + providers
broadband + installation
broadband + installer
broadband + package
broadband + deal
broadband + speed
broadband
internet + provider + cheapest
internet + provider
internet + best
internet + area
fibre + internet + provider
fibre + internet
fibre + optic isp
fibre + isp
fibre + deals
poor + mobile + coverage
poor + mobile + signal
poor + reception
improve + mobile + coverage
improve + broadband + signal
faster + broadband + signal
mobile + boosters
mobile + connectivity + problem
mobile + connectivity
mobile + phone + repeater
mobile + phone + repeater
mobile + repeater
mobile + coverage + solution
mobile + coverage
mobile + phone + booster
mobile + phone + boosters
mobile + signal + coverage
mobile + signal + improvement
voip + ireland
voip + solutions
voip + provider
voip
wifi + solutions
wifi + connectivity
wifi + connections
wifi + installer
wifi + package
wifi + deal
mesh + system
home + network + solution
home + it + network
network + solutions
networking + solutions
Broadband – Online Search Trends and Forecasts – Ireland
Data and Analysis – Content, SEO and PPC
The Broadband online findings are drawn from a deep analysis of millions of data points sourced originally from Google. Results are grouped into logical clusters/segments.
550 Broadband Online Clusters/Segments            585 Pages
AI tools developed by OI5050
Analysis and market segmentation compiled in Ireland
Data updated for each order with Delivery in 1-2 days
Content Clusters Include:
Cellnet
Digiweb
Eir
Ifa
Imagine
Pure
Rural
Sky
Virgin
Vodafone
Broadband providers
Broadband packages
Broadband deals
Broadband speed
Internet fibre providers
Internet fibre
Improve mobile coverage
Voip solutions
Voip providers
Networking solutions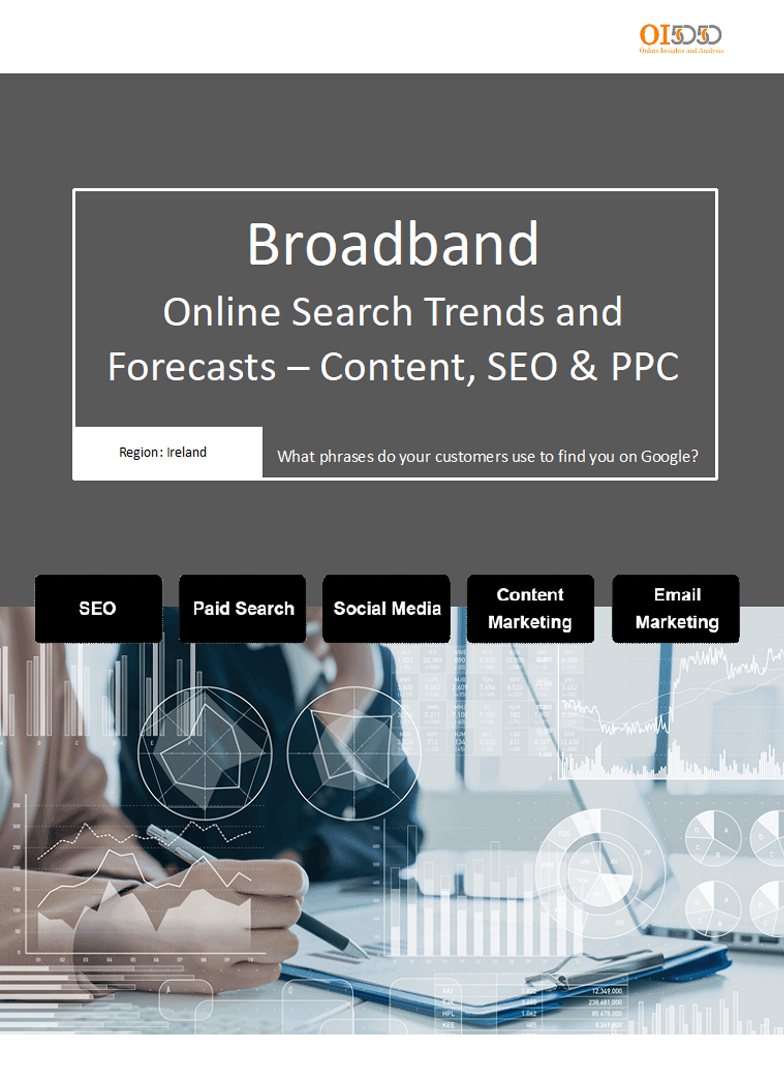 All Analysis / Reports in this Category